Native American Program
Welcome!
Is your child in need of school supplies and/or clothing for the 2017-2018 school year? If so, we're here to help.
Please call (520) 568-5145 for more information.
Our Title VII Native American Education program utilizes funding from the Federal Government in order to provide services for eligible Native American students who are currently enrolled in MUSD. Eligible students are those who have a completed 506 form on file with the Native American Education Program office. If your child does not have a tribal enrollment number, parent or grandparent numbers are accepted. Enrollment information will only be used as documentation for grant purposes. 506 forms are available at your child's school and the NAEP office.
Maricopa Unified School District

Native American

Parent Advisory Committee

2017-2018

"Tradition is our Past, Present, and Future"

Vera Brown Thunder

Chairperson
Artemia Antone
Vice-Chairperson

Michelle Nez Angie Gamble

Secretary/Treasurer
Teri Ponticello
NAED Program Coordinator
Kristen Stutterheim
Teacher Representative
Yvette Nez-Garcia
Parent Representative

Elise Brown Thunder Sarah Hymer Andrea Harker

Student Representatives
2017-18 NAPAC Meeting Dates
NA family meetings and events are held at Saddleback Elementary School - 18600 N Porter Rd. Maricopa, AZ 85138
Meeting Dates:
September 20, 2017 (Parent Meeting)
December 6, 2017 (Parent Meeting)
December 13, 2017 (Family Night)
February 21, 2018 (Officer's Meeting)
March 7, 2018 (Parent Meeting)
April 11, 2018 (Public Hearing)
May 2, 2018 (Officer's Meeting)
May 9, 2018 (Family Night)
MUSD's goal is to encourage all Native American students to reach their maximum potential and to help make their educational experience positive and rewarding.
We need you!
It is our belief that parent and community involvement are essential for a student's educational development. Working together, we can provide the best environment and opportunities for our children to meet challenging academic standards.
We invite you to be a part of our program.
Need assistance with school supplies/school clothing?
Please contact Teri Ponticello (520) 568-5100 ext.1010
Email: tponticello@musd20.org
| | |
| --- | --- |
| Literary Resources: | News: |
| | |
Attention Talented Artists!
We invite you to participate in our 2nd Annual MUSD NAPAC Art Expo.
Submissions are due by May 4th. Questions? Please contact Teri Ponticello
(520) 568-5145 or tponticello@musd20.org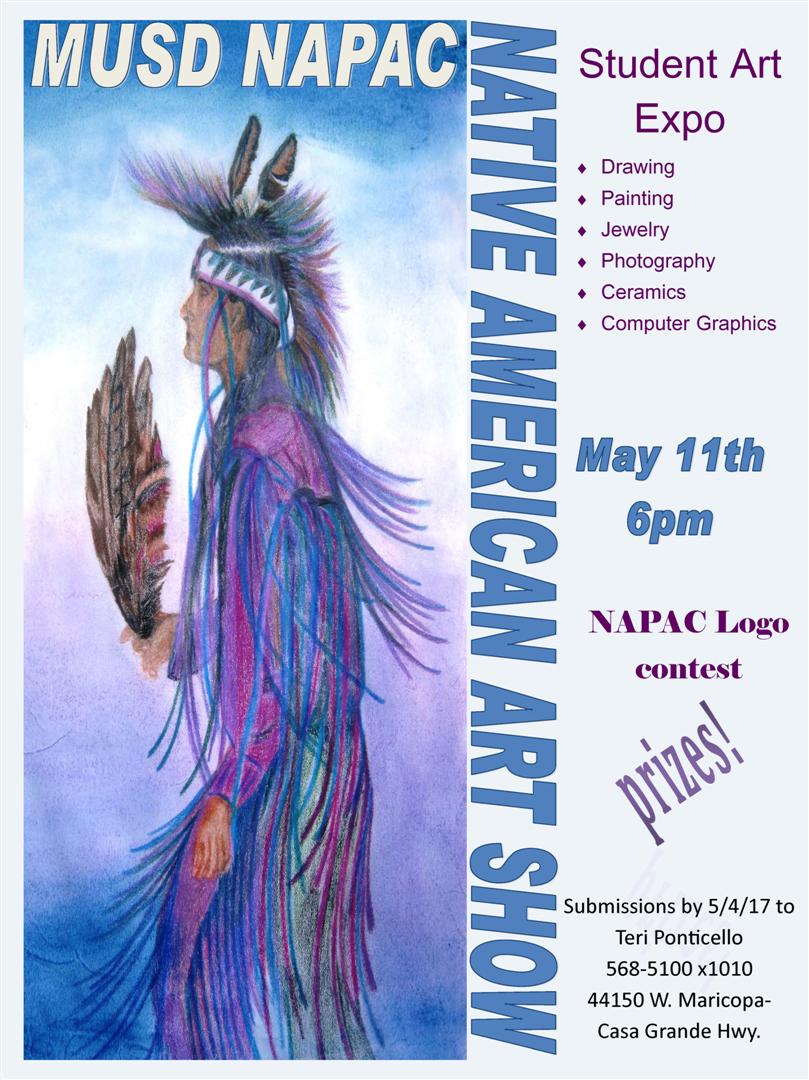 -----------------------------------------------------------------------------------------------------------------------------
Thank you to everyone who attended and participated in our
Native American Regalia Fashion Show. You are official YouTube stars!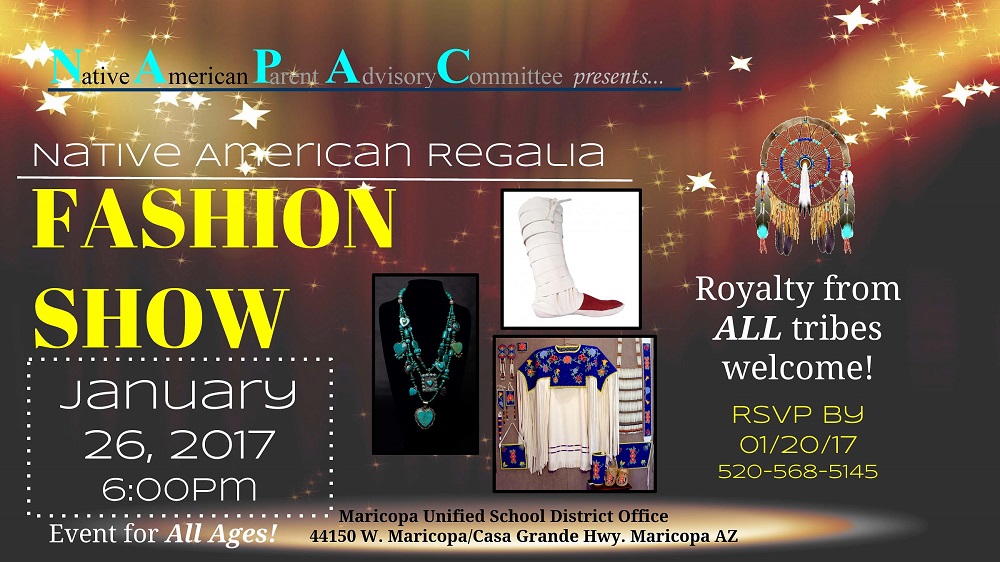 SAVE THE DATE!
You are invited to attend and participate in our NA Regalia Fashion Show on Thursday, January 26, 2017 @ 6:00pm at the MUSD District Office. We hope to have representation from every tribal affiliation in the District.
Please RSVP by calling (520) 568-5145