Transportation
Our Transportation Department makes safety our first priority. We strive to provide safe and efficient transportation for all our students and staff. This safety requires cooperation and responsible action by the bus drivers, our students, and their parents.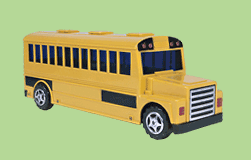 All bus drivers must possess a Commercial Driver's License and pass the State Bus Driver Certification. We do everything we can to ensure the safety of our students and staff as we provide transportation to school, extracurricular activities, special needs transportation, and transportation for employees to attend workshops and conferences.
Elementary School Bus Schedules
Secondary School Bus Schedules
Rainy Day Schedule
Procedures for Use of District Vehicles
Complete a transportation request at least 10 days prior to the date the vehicle is needed. We will return any requests for transportation that are not fully complete with all of the information which may delay the request.

When transportation has approved a request, the requester must make arrangements to pick up vehicles and keys.

Occupants must wear seatbelts at all times in the vehicle.

Report any problematic situations in completed paperwork and/or inform transportation when you return the vehicle. Informing transportation about problems allows time for immediate repair.

No eating or drinking is allowed in school vehicles.

Upon return of the vehicle please check for the following:

Personal items

Completed paperwork

Windows are rolled up

Doors are locked

CLEAN UP all garbage

Return keys to office or key slot (ask transportation for the location, if returning after dark.) If returning after dark, lock gate when exiting.
Please follow all procedures carefully. Failure to follow procedures may jeopardize your continued use of any district vehicle and/or imposed fine. If you receive three violations, your privileges will be revoked.
NOTE: If you are interested in becoming a driver for Maricopa Unified, please contact Fred Laguna at the number above.
Transportation Trip Quote and Trip Request
If requesting a quote for a trip or a request for any trip, please complete the Trip Quote and Trip Request paperwork.